AWARDS
Home PC Monitoring
Perfect for catching a cheating spouse, monitoring and proctecting kids online.
Office PC Monitoring
Know exactly what are your employees doing online in office by checking emails.
SpyPal - The Best PC & internet monitoring software!
SpyPal PC Keylogger is advanced PC & Internet monitoring software. It is NOT only a simple keystroke logging program, AKA keylogger, but also an advanced computer activity spy software. It secretly records Facebook use, chats & IMs, emails, web sites visited, online searches, document opened, file usage history, applications executed, clipboard activity, Windows opened, microphone sound and much more on your PC. As an advanced monitoring software, SpyPal PC Keylogger takes pictures of computer Desktop screen periodically to provide you with graphics-based information, just like what a professional detective does in real life! And this captures passwords typed by web-based keyboards or on-screen keyboard too.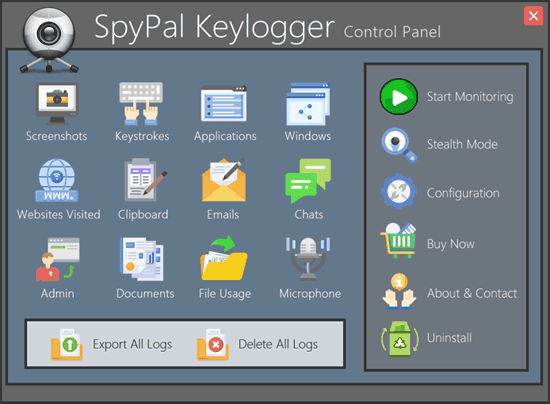 In Invisible Mode, SpyPal PC Keylogger is completely hidden to computer users. However, you can easily unhide the software with your hotkey, or receive log reports via a pre-set email! These reports can be sent as often as you wish, like every 60 minutes. Setup the software, sit back and relax. Everything is under your control!
What does the product do?
Logs Facebook Chats & Emails
Logs Social Media Usage
Logs Keystrokes Typed
Logs Screenshots
Logs Websites Visited
Logs Online Searches Performed
Logs Clipboard Text
Logs Documents Opened
Logs Internet Connections Established
Logs Videos Watched
Logs Applications Exectuted

Logs File & Document History
Logs Windows Opened
Logs Email Read and Sent
Logs Passwords Typed
Sends Logs to Your Email or FTP
Screenshot Slideshow Playback
Easy Log Management And Viewing
Quick Log Searching And Filtering
Runs By Task Scheduler
Runs In Complete Invisible Mode
You Can...
Monitor Your Children: find out if your kids are spending too much time on Facebook or computer games? If your teenage daughter is chatting with internet molesters? Or if your naughty boy is surfing inappropriate web sites?
Monitor Your Spouse: find out if your wife is contacting a guy via instant messenger and having an affiar later? If your husband is performing web cam xxx with some other women after you sleep in mid night? Or if your spouse is moving money to a overseas bank and preparing a divorce with you?
Monitor Your Employees: find out if your employees are stealing your company secrets? If your lazy salesman is goofing off and chatting with his girl friends during work hours? Or if the "sharks" of your company is looking for a "better place" to go?
You deserve to know the truth. A monitoring software, SpyPal PC Keylogger can help you make it happen!
Key Features:
Keystrokes Typed - Logs all keystrokes, including optional non-alphanumerical keys, typed with time, Windows username, application name and window caption. It may include user names and passwords for various logins.

Websites Visited - Monitors and records all URLs, Windows username and timestamp, even privacy mode is on.

Program Executed - Logs all programs including applications, executable files, documents and directories navigated with timestamp, Windows user name, application/document/directory name and file paths.
Clipboard Data - Logs all text data sent to clipobard with timestamp.

Screenshots - Automatically captures screenshots of computer screen at set intervals. This includes chats, emails, instant messages, web searches, computer games, WhatsApp, Skype, Facebook, Viber, Tinder, Zoom, Teams, Instagram, LINE, Telegram, Windows Store apps and everything. Stores screenshots as JPEG images. Automatically stops screenshot when user is inactive.
File Usage History - Logs all files and documents created, copied, moved and deleted, including those actions on USB disks or mobile hard disk drives.
Emails Sent and Received - Logs incoming and outgoing emails in Office Outlook client.
Documents Opened - Logs exact text data of opened documents in NotePad, WordPad and Office Word.

Invisible Mode: SpyPal PC Keylogger runs invisibly in Windows systems and does not show in Windows task list. None will know it's running unless you tell them!

Log Operation : You can choose to view different type of logs from the PC keylogger main interface. You can delete selected logs or clear all logs, search logs or export logging reports in HTML format.

Task Scheduler: You can set starting and ending time for each task to automatically start and stop the monitoring job.

Report Delivery: Sends log reports to a preset email at set time intervals. This allows you to reveal the truth by simply checking your email!

Easy-to-use Interface: User-friendly graphical interface makes it easy for beginngers.

What is computer monitoring?
PC keylogger software is also known as computer monitoring and surveillance software. It enables you to record various activity on your PC. These products enable you to record Facebook use, chats, instant messages, emails, websites visited and much more. Monitoring software are created as a solution for stealth computer monitoring and surveillance. They are not designed to be used for malicious purposes. Computer monitoring software is intended for responsible adults who own or have permission to monitor and record a computer.